SharePoint is a very common big corporation content management tools and in the right hands it can be quite powerful. I want to point out that SharePoint, is NOT a requirements management tool, but if its all you have, then you have to make the best of it (Creative Thinking at its finest ladies and gentlemen). Now ... I can spend days droning on and on about all the different features that SharePoint has that would work for business analysis, so I'm gonna stick to my top 5. (Don't forget to also check out Top Requirements Management Tools, to Make You A Battle Ready Business Analyst!)
Top 5 Features for Managing Requirements (and Agile Backlogs) on SharePoint
Below are out of the box features that you should be able to use on even basic installations.
#5 Managing Business Requirements and Backlogs with Lists Views
Lists are essentially tables that you can use in a variety of ways in SharePoint. You can add and modify your requirements attributes (requirement ID, requirement, additional details, impacted systems, business owners, etc). This is great when for when you need to organize your requirements or when stakeholders want to make sure all of their needs are covered.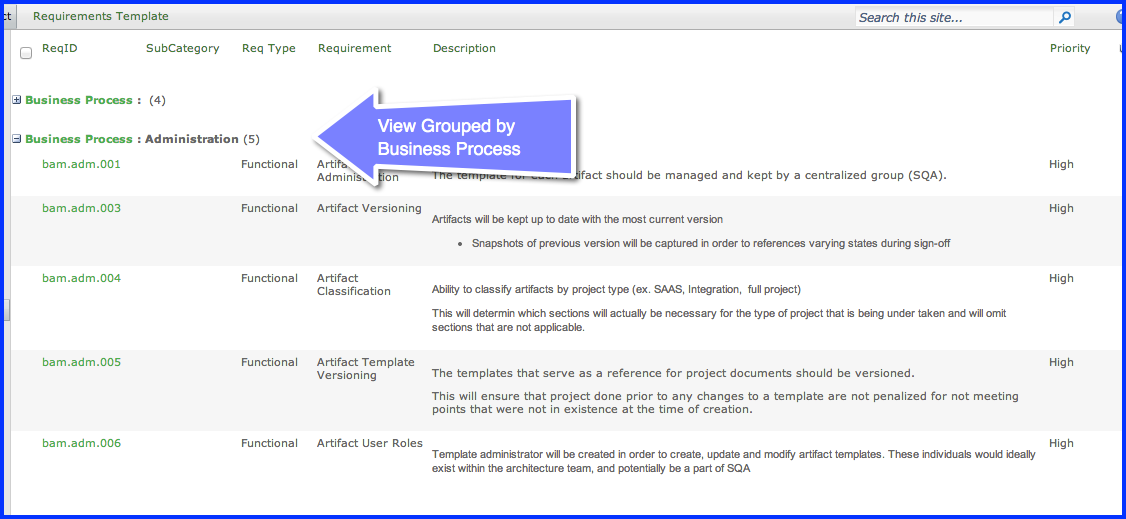 #4 Exporting Requirements to Excel
If you're working on a giant complex project with many working parts, different business analysts, and huge amounts of stakeholders, than exporting into a tool like Excel makes slicing and dicing and getting analytics on your requirements that much easier. If you have office 2007 or earlier, you can even edit the list from excel and sync it back to SharePoint. For some reason they don't allow it in Office 2010 (I was quite sad to lose that feature)

#3 Requirements Traceability with Look Up Columns
Requirements traceability is one of the biggest pains in the butt to keep track of without a good tool. You can add a column type called "look up", pick the business requirements list, and then select which columns you want to show up in the function specification list. This way, you can see filter to see how each business requirement is being met or for impact analysis and so forth.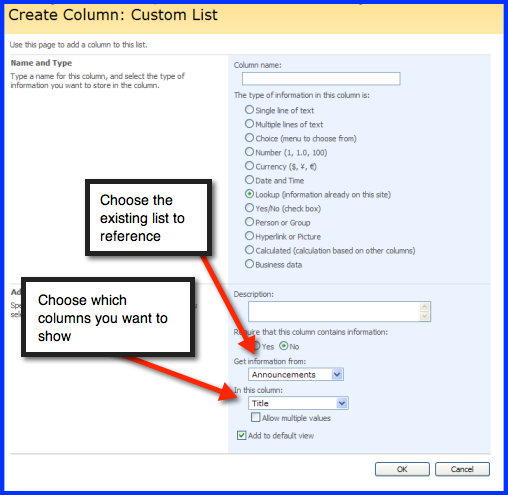 #2 Discussions for Keeping Track of Decisions
One of the best things you can do for yourself is to not allow discussions via email. Require all questions and discussions to happen strickly via sharepoint discussons. This will ensure that all of your project decisions are stored some place where anyone can see them. Its also a good way to make sure all questions have been answered. Personally, I enhanced my discussion boards by adding fields for "who should be responding" and "is the question resolved", so everybody can see what is open, unresolved, and needs their attention.
#1 Workflows to Make Everything Run Smoother
SharePoint has some default workflows (like emailing a person if they are assigned to something) or you can get fancy and write you own. I found them most useful for discussions as well as when using SharePoint as an Agile Backlog tool. When a requirements was complete, the development set a status that triggered and email to the product owner (business analyst, i.e. Me). I then had my own set of statuses that either triggered an email the development team (if it failed) or to the business unit for final validation (if it passed). We did something similar for discussions and I would say it completely changed our efficiency and generally made everyone happier.

Full In-Depth Tutorial: "Managing Requirements In Sharepoint"